PCT AND LIVER SUPPORT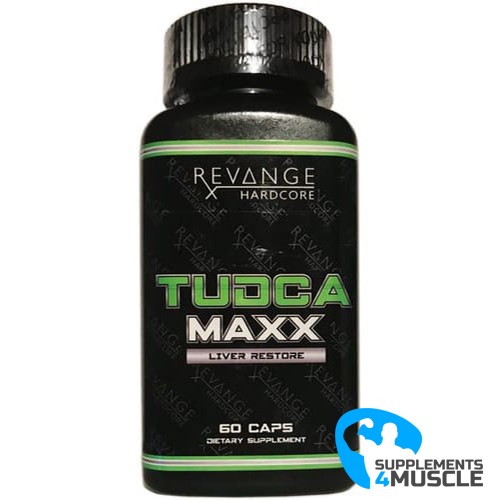 
DESCRIPTION
COMPOSITION
DIRECTIONS OF USE
REVIEWS
DESCRIPTION
Revange Tudca Maxx 60 caps
Every fitness enthusiast wants to move out of a supplement cycle safely but the road to safe return is not always smooth until you have Revange Tudca Maxx on your side. Powered with an advanced post cycle therapy formula, Revange Tudca Maxx help you retain your steroid or supplement cycle gains, rejuvenate your liver, normalize your hormone levels, and boost your testosterone levels back up to normal.
A scientifically developed all-in-one product with powerful ingredients, Revange Tudca Maxx helps your body recover quickly and safely and acts as a bridge between your supplement cycles. Discover the magic of NAC (N-acetyl L-cysteine) that protects against toxins, accelerates the decomposition of alcohol breakdown, reduces hangover, and keeps your body protected against nicotine consumption. Other ingredients include TUDCA (Tauroursodeoxycholic acid), Tumeric Extract (Curcuma longa), Rosemary Leaf Extract, Policosanol, Bioperine, and L-glutathione.
Why Buy Revange Tudca Maxx 60 caps?
Promotes muscle fullness during intense workouts
Helps you retain cycle gains for long
Keeps you energetic throughout the day
Reduces muscle catabolism
Enhances your recovery levels after resistance training or cardio sessions
Don't waste time on inferior supplements that make tall claims but fail to deliver, just start with the best! Buy Revange Tudca Maxx now. 
COMPOSITION
Serving Size: 1 Capsule
Servings Per Container: 60
Amount Per Serving
TUDCA (Tauroursodeoxycholic acid)
300mg
Liver Support System:
NAC (N-acetyl L-cysteine)
200mg
Tumeric Extract
(Curcuma longa)(95% total curcuminoids)(rhizome)
100mg
L-glutathione reduced
100mg
Rosemary Leaf Extract
(Standarized to 40% Carnosic acid, 25% Ursolic acid, 20% Rosmarinic acid)
100mg
Phospholipids
Phosphatidylcholine
Phosphatidylethanolamine
Phosphatidylinositol
100mg
50mg
15mg
3mg
Na-r-ALA
(Biosolv Enchanced Sodium R-Lipoic Acid)
50mg
Policosanol
10mg
Bioperine
5mg
DIRECTIONS OF USE
As a dietary supplement, take 1 to 4 capsules a day.
REVIEWS
There is no review
Atsiliepimas Atsiliepimas